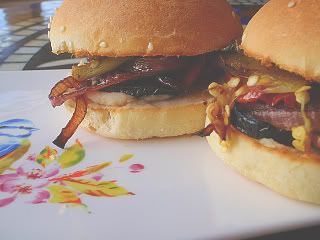 White Bean Spread
1 can cannellini beans, rinsed and drained
Juice of 1/2 lemon
1 head garlic, roasted
Salt and pepper to taste
Using an immersion blender or food processor, combine ingredients until fairly smooth and thick. Add water as necessary to bring the mixture to a nice, spreadable consistency.
Roasted Vegetables
1 medium zucchini, sliced 1/4" thick
1 yellow summer squash, sliced 1/4" thick
1 bell pepper (preferably red or orange), cut in large chunks
1 red onion, sliced 1/4" thick
1/2 cup cherry tomatoes, halved
4 small portobello mushrooms, peeled and gills removed
4 slices roasted green chili, peel and seeds removed
3 tablespoons olive oil
1 tablespoon balsamic vinegar
Salt and pepper
Combine olive oil and balsamic vinegar in a nonreactive pan. Lay vegetables on top of oil and vinegar; salt and pepper to taste. Marinate 2 hours, turning occasionally so all the vegetables have a chance to absorb marinade.
Arrange vegetables on a baking sheet, keeping similar items together. Roast in a 450 degree oven until desired degree of doneness, checking frequently, turning as necessary. Remove items as they reach the desired doneness, setting aside.
To assembly sandwiches:
Slice 4 buns and brush cut sides with olive oil. Broil until slightly toasted.
Spread white bean spread on the bottom half of each bun. Top with roasted vegetables and top half of bun.